Good Morning BaysbeautySkinCare.com - SellingLounge
Triple Banner Blow Out Starts Now will end tonight at 6pm eastern time.
I have 3 banners in rotations on the surf page
Be sure to click on the banner when you see the extra credits when surfing
Make sure you have plenty of banner credits in your account today so your banners will be seen. This is HOT HOT HOT
Buy 2000 Banner Credits, Get 2000 Banner Credits FREE On Reallysmartdeals.com Bonus I will add a extra 2000 banner credits. That is a total of 6000 banner credits for only 4.99. This special ends tonight at 9 pm.
Note: To receive your credits after payment is made please log into your tool page and click you the contact us link at the top of the page. And send me your user id. That way you will be sure to get your credits added in a timely manner.
Log in and surf all day. Credits will add up fast.
Surf Now http://reallysmartdeals.com/surfnow.php

Surf & Chat http://reallysmartdeals.com/surfnow.php?sb=1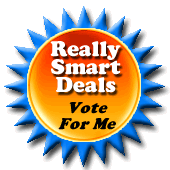 Reallysmartdeals has a Top 100 Site.
For every banner you add to the Top Site I will add 100 hit credits to your account.
http://reallysmartdeals.gotop100.com/
After you join the Top site you will receive a email with a activation key. Click on the link and then you will be active.
You will receive a 2nd email that is your welcome email. That will have all your information in it.
Be sure to put a banner or button on your site. You will find the linking instructions here http://reallysmartdeals.gotop100.com/members/.
To receive your credits please log into Reallysmartdeals, click on the contact us link and send me your welcome email. Credits will be added within 24 hours.
*****And there is More*****
I also have banners where you can advertise for 6 months for only $10.00. That is only $1.66 a month if you break it down for a great spot on the Top Site. Banner size is 125x125.
Just look for the banner that look like this
Regards,
Debbie
Are you using all the tools that RSD as to offer?
Be sure to read everything.
http://reallysmartdealsnewsletter.blogspot.com/
http://reallysmartdeals-shopaholic.blogspot.com/
http://referralcontest.blogspot.com/
http://www.squidoo.com/reallysmartdeals
http://reallysmartdeals.ecrater.com/