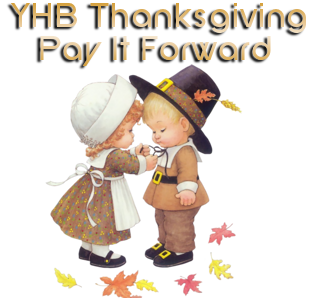 Thanksgiving Pay It Forward (PIF) Auction
November 10 ~ 15

CLICK HERE TO SEE THE AUCTION!


Let's Have a Good Old Fashioned Bidding War!
Check out the Forum

HERE

for updates on Bids and Box Value

The proceeds of this auction and all items in the box will go to Luvnit
For those that do not know,
Luvnit's husband recently passed away
He was only 51

The Winning Bidder of the PIF Box will receive
10 YHB Site Credits
1 Month Front Page Spotlight Item Ad

Don't want to mail an item? We have that covered too.
The following are GIN Dollar Donation Dutch Auctions:
The proceeds of these auctions will go to Luvnit
The winner of the GIN auctions will get a little something extra (see the individual auctions for details)


Special Thanks to PIF Box Donors!